Virtual Event
Case Study
Veritas helps a sub-specialty society host a global virtual symposium with 10,000+ attendees.
The Summary
Forced to cancel its in-person annual meeting due the COVID-19 pandemic, the Society of Robotic Surgery (SRS) was in search of a way to create a meaningful virtual event that would provide adequate learning opportunities for its community during quarantine. With the planning and execution expertise of Veritas Association Management, the society hosted the first-ever World Robotic Symposium, an all-virtual program that would exponentially eclipse their annual meeting attendance of approximately 500 and become the world's largest robotic surgery event ever, with more than 10,000 attendees.
The Client
Managed by Veritas Association Management, the Society of Robotic Surgery is a professional organization dedicated to promoting the growth and education of robotic surgery across a wide range of medical specialties and disciplines. Its membership is composed of a diverse group of surgeons, faculty, fellows, administrators, and executives that contribute to an ever-growing library of studies, databases, and technologies. The pioneering spirit and dedication of its members have made SRS a leading voice in the cutting-edge field of robotic surgery.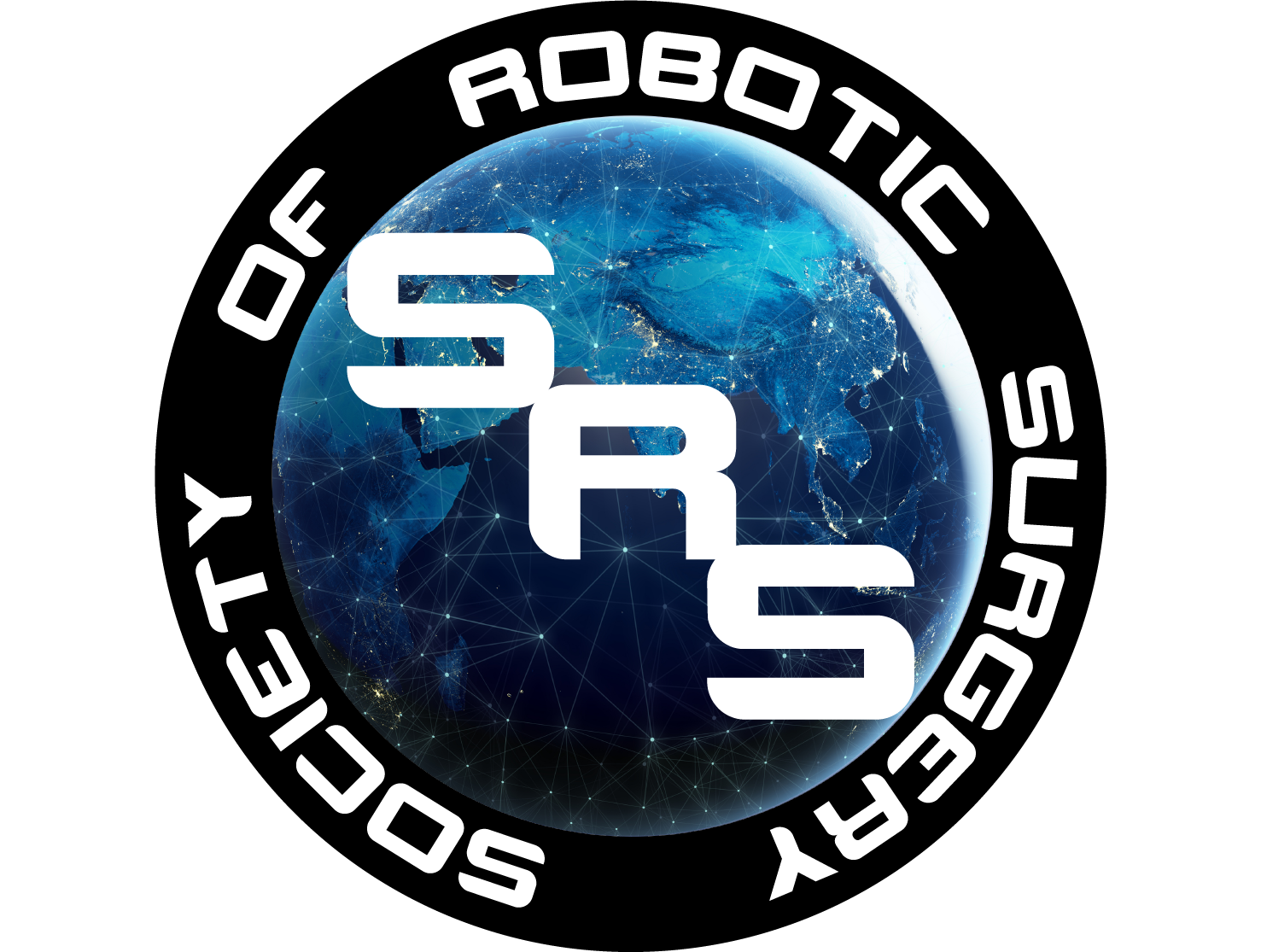 The Challenge
Until 2020, SRS had always hosted its annual meeting live, on-site at various hotels around the world. However, due to health concerns surrounding the COVID-19 pandemic, hosting the event in Orlando as planned was impossible. Many faculties' institutions had implemented strict bans that prohibited any travel for educational or professional development opportunities. Even more were unable to travel due to similar bans instituted at state and federal government levels.
"I wanted to find a way to bring robotic surgeorns from around the world together in solidarity during this challenging pandemic," said Dr. Vipul Patel, Executive Director of SRS. "I approached Sue [O'Sullivan, President of Veritas Association Management] about the idea."
"I told him that Veritas was definitely up to the challenge. It's so important that organizations continue to provide value to their members and communities, especially during difficult times like these. That's exactly why professional associations and societies exist. They make us all stronger, together. I knew our team could make it happen," said O'Sullivan.
The Solution
Initially, the Veritas team started planning a simple webinar-like event format, a series of pre-recorded lectures followed by several live panel discussions. SRS leadership and members of the Veritas SRS team began reaching out to other leading robotic surgery experts and organizations in related disciplines to contribute content and help promote the event. Initial feedback was overwhelmingly positive; from the outset, it was clear that there was tremendous demand and interest for the virtual meeting.
Once a tentative schedule was in place, the Veritas programming team and faculty program chairs set to work building out agendas, contacting the 500+ contributing faculty, and coordinating the logistics of producing and collecting the prerecorded lectures and discussions that would make up a majority of the content.
With content collection and scheduling well underway, Veritas' technical and digital strategy teams began working on exactly how to go about producing a virtual event of this magnitude. By this point, more than half of the specialty tracks had been expanded to include live panel discussions with remote participants. There would also be several satellite virtual events hosted by collaborating international organizations. The event would require 7 dedicated video producers to manage the concurrent streams, as well as dedicated support staff for each session.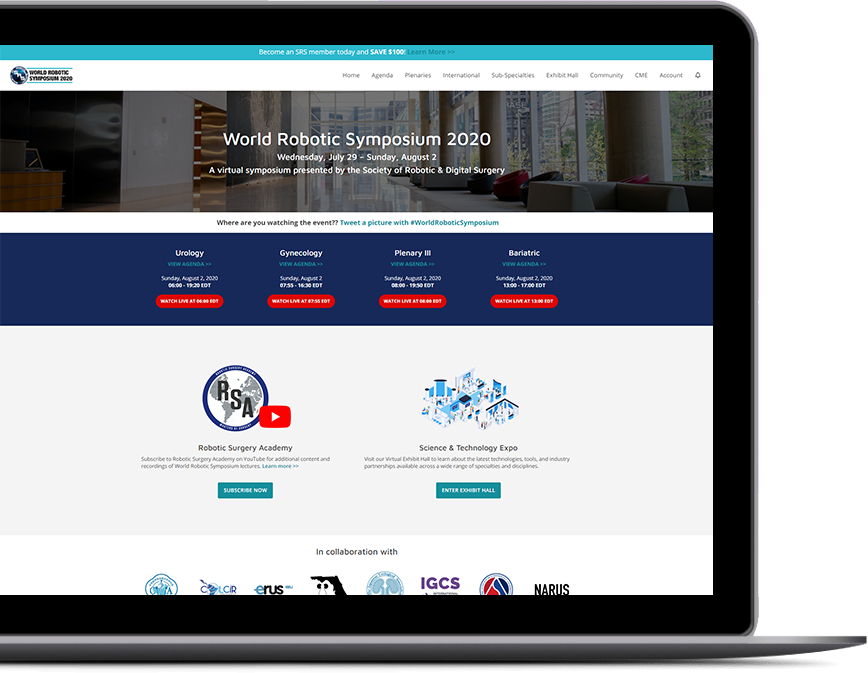 The Event
To effectively manage the multiple concurrent streams and make sessions easily accessible to thousands of users, Veritas customized a robust event portal that simulated the experience of a traditional SRS annual meeting. In addition to the livestreams and real-time chat features, the dedicated site also featured a virtual exhibit hall for industry sponsors, exhibitor hospitality suites, interactive agendas, and a host of networking and social features that allowed attendees to connect with one another.
The Results
Thanks to the extraordinary efforts of the Veritas planning and production teams, SRS leadership, and the designated program chairs, what started as a "simple, free webinar" for a few hundred people has become one of the most successful global medical events ever hosted. The first-ever World Robotic Symposium started on a Wednesday evening with the first of the international sessions and ran for four full days through Sunday evening. Users from more than 14 different medical specialties and 91 countries around the globe signed into sessions hosted by hundreds of the world's most innovative experts in robotic surgery.
World Robotic Symposium at a Glance
From an attendee, exhibitor, and supporter perspective, the platform looked very well put together and the experience was as interactive as we've seen to date from society meetings. So, kudos to you and your team for being able to pull that together and providing a value platform for attendees to engage.


JD Mazzuca
Marketing Events Specialist, Intuitive

With a final registration total more than 10,000 users and more than 142 hours of CME content, I couldn't be prouder of our Veritas team. This event is perfect example of how powerful and flexible virtual executions can be. I have no doubt that virtual and hybrid meetings are here to stay.

Sue O'Sullivan
President, Veritas Association Management
Want to host an event like this?
Let our expert team help you create an unforgettable virtual event experience.